Chima (チマ, Chima) is a young orphaned peasant girl that was adopted by Astro along with many other orphan children.
Appearance
Edit
Chima is a girl with medium length blonde hair and green eyes. She has dark colored, stitched shoes that Astro gave her, which she wears all the time.
When she lived in the slums, she wore a tattered pink dress.
Her appearance as she lives in the castle is a bit different. She is still wearing a light colored dress, but it is much fancier. She also wears an undershirt.
Personality
Edit
Chima is a kind and caring child. She has an odd way of getting Astro's attention by hitting him in the crotch with a pipe.
Relationships
Edit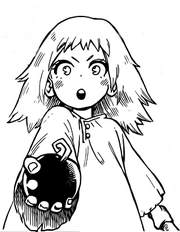 Chima has a very close bond with Astro and cares deeply for him. She also appears to be the only one out of the chilren who is aware of how much he goes through to support them.